Clean & Professional Web Designs
We are a custom website design and marketing company that develops conversion-based websites that offer strategic marketing solutions for business owners determined to grow in their industry. Our primary focus is to provide superior customer service and deliver results.
We are marketers and artists. We have mastered the aesthetic design aspects to create powerful websites that gain leads and sales for our clients. We follow a smooth approach to design, develop and deliver the perfect website for our client's operations. From selling products and services to membership websites, we make sure that you have everything that you need for your business to operate online. We completely obliterating the difficult, time-consuming website tasks and we take care of you every step of the way.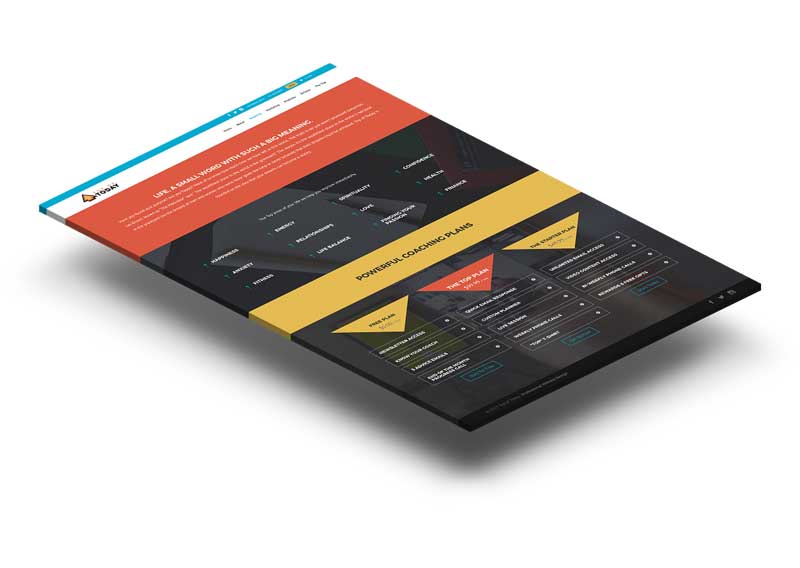 We develop your website based exactly on what your business needs. Every single website is different and may have different requirements for business operations. This means that your website will be delivered to you with what you need, and nothing less.
The Most

Important

Web Features
Awesome Designs
Your website will be delivered with a clean design that looks professional while reflecting your brand look and feel. We are here to make your business and your website stand out from the competition. After analyzing the best way to develop your website, we create your unique design and make sure that it also adapts to smartphones and tablets.
Traffic & Analytics
We will connect your website with Google Analytics to view all of your website traffic statistics. You will be able to monitor all visitor activity on your website. You can see where your website's traffic is coming from, number of site visits, bounce rate, average time on site, pages per visit and even which keywords they used to find your website.
Custom Email
Having a custom email address that matches the domain looks much more professional than a common email providing entity such as "business@gmail.com." We can even integrate it with your current email provider to make email easy if you do not want to use an external email software like Outlook.
Accept Payments
Sell unlimited amounts of anything, anywhere. Have the ability to process credit and debit cards directly through your website. You can receive & process customer payments safely and securly. Receive money quickly by integrating the ecommerce platform with your Paypal account.
Easy-to-use dashboard
Making changes to your website is a breeze. We create the website's backend to be easily navigated and quickly understood. It may seem like a lot of information at first. We assure you that with our training, and the provided video tutorials INSIDE the back end of your website, you'll feel like an experienced designer with our custom developed dashboard.
Drag-N-Drop Builder
We utilize an incredibily intuitive front-end website editor like nothing you have ever seen before. Your website's back-end will contain hundreds of customization options. We also include a "Website Training" section with every website with video tutorials on how to make changes using the drag-and-drop builder.
Restrict Content
Have the ability to restrict your content to your members only. This also works if you are trying to sell access to specific products, specific pages, or even subscription based products/services. We spend a lot of time with customer service and managing clients, so we have tried to make it as easy as possible to take care of members.
Custom Development
The sky is the limit. This small list is just the common features that are requested. If you need something created that has never been done before, then we may be the right team for your business.Welove to get our hands dirty with unique tools and features that would be custom only to you.
Krysta Jones
THC Girls
I have used Flawless Website Design for many digital advertisements as well as our website and I can tell you the quality is always on point, returned in a timely manor, and functioning just as it should. I have been a repeat customer since I first worked with Mario on our website and refuse to go any where else.

Renae A.
Where do I begin!? I came to Flawless for a private website, and what I received was sooo much more!!! I run a weight loss business, and I have so many different customers who speak different languages, and Flawless Website Design was able to make my website so it is translated to the language that was needed for them! They make thing's so simple and easy for me to understand! If I need something added, they always go out of their way to add what I asked! So happy to have him as my web designer! That's the reason why I always tell people about his awesome services! Happy Happy customer! Keep up the great work Mario & Flawless Website Design! You're doing an amazing job!

Roger Williams
RogerWilliamsSongwriter.com
Mario built my website in record time, and it looks great, functions properly, and most importantly, he is very professional. Mario was very patient working with me on some training that will allow me to add to the site. I just purchased business cards that Mario matched up with my website design, and the cards look awesome. I am very happy and satisfied with the work Mario has done for me. I live in Kentucky, so I
would recommend him to anyone from anywhere in the world. Thank you for a great job!

Vic Carter
VicCarterMusic.com
Great people doing great work!! Support the home grown businesses. I ain't going nowhere else #Loyalty #Flawless

Nick Echo
Echo Media
Our webpage and all that goes on behind it would not be possible without Flawless Website Design. Mario has been exceptional with communication and execution of what we needed. If you are a small business, startup, or anything in between we highly recommend using Flawless Website Design.

Victor Hugo
Flawless Steel Welding
This is a wonderful company with the best customer service I have ever encountered. Mario works hard to make our company look great online and his personal service to our needs is outstanding. We are lucky to have found this company and would recommend them to everyone.

Darrel Quintana
Alumni Auto Glass
Great service will definitely recommend. My website and logo looks great. Mario is the first one that I call for any media.
Get a custom design for your business
We help get your business established by creating the best website design that is tailored for your business.