THE ULTIMATE WEBSITE DESIGN TO SELL YOUR BEATS
Sell Your Beats  with our modern design and your production.
THE ULTIMATE BEAT SELLING WEBSITE
Sell your beats easily with our beat selling website platform. Provide artists with direct access to listen to your beat catalog, display your pricing, make sales, and gather email addresses to market new beats, and get more visitors to your social media pages with this conversion-optimized platform.

sell your Beats
We include integrations with AirBit to make it easy for you to sell your beats. Pick one, upload your beats, provide us with the embed code, and we'll integrate your beat store.

Collect Email Addresses
You will be able to gather email addresses so that you can let all of your website visitors and customers know about any deals and special offers, new beats, and more.

Grow Your Audience
Your visitor will be displayed all of your social media links so that they can follow, like, or subscribe to you on their preferred social media network, plus a sleek contact page to match.
Starting with your social media links and contact page button for quick access to get ahold of you. Followed by your logo then prominent icons providing your customers with peace of mind.
The beat store is the primary focus where visitors will be able to listen to your beats, select the license and checkout securely via PayPal.
Your prices will be displayed below the beat store for your visitors to have a clear understanding of your license's and the terms.
The email list lead generation section is the final piece of the page. Capturing your visitors email address will give you the ability to market to them later, and is conveniently placed to trigger them to drop their name and email.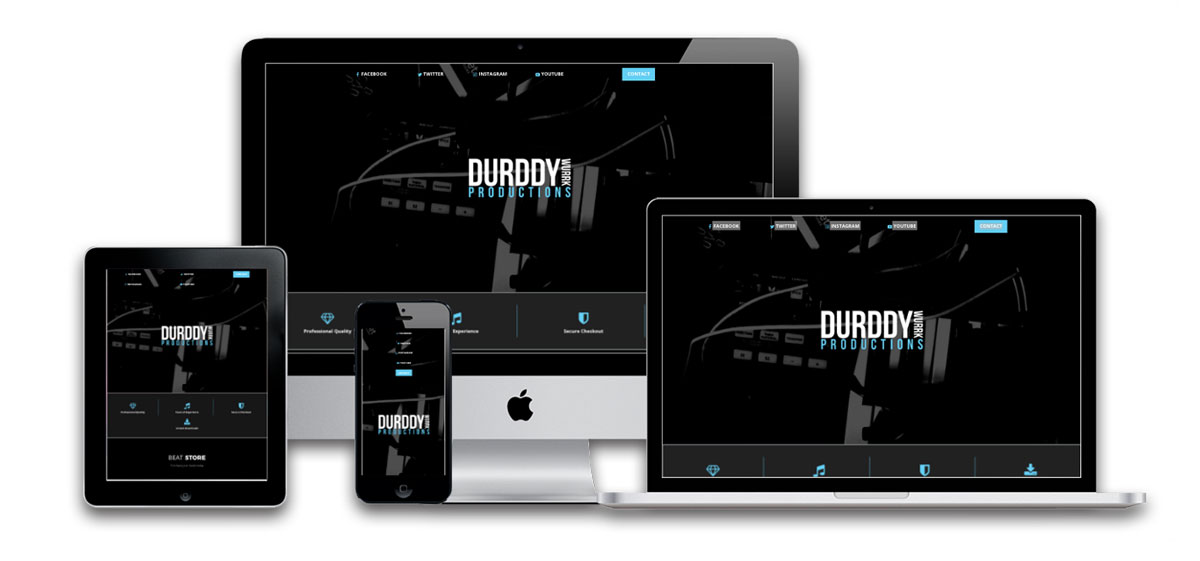 HOW YOUR NEW BEAT WEBSITE WORKS
They land on your new website. Right away, they are presented to listen to your beats. After listening, they have ONLY a few specific actions they can take. They can either purchase the beats that they have been listening to, view your beat license pricing, or enter your email list. These actions have all been specifically placed in our platform to maximize your ability to grow and monetize as a producer.
If your visitors choose to purchase a license to your beats, depending on the platform you use to sell your beats (AirBit or BeatStars), your customers will receive an email with their receipt and beat downloads. You will then be able to market to your customers again later by sending them email newsletters about deals on new beats, free beats, upcoming events, interviews and more.
FREQUENTLY ASKED QUESTIONS
What does "conversion-optimized" mean?
In internet marketing, conversion-optimized means that the website page has been tested to convert visitors into fans by eliminating all of the potential distractions to direct the visitor towards your music career goals.
How long does the website take to set up?
Our set up time is usually just a couple of hours, but to be safe and understanding domain name servers, it COULD take up to 3 business days to acquire your domain and set up your platform.
Can I set my own beats pricing and licenses?
Yes. You can simply set your pricing in
AirBit
or BeatStars. You send us your beat licenses, terms, what they receive, and the prices that you want displayed on the website. We'll do all the technical work to make it look good on your website.
ALL OF THE BEST BEAT WEBSITE FEATURES
Choose your own domain name (i.e., www.ARTISTNAME.com) and we'll integrate your new beat store. Your domain comes with a free SSL certificate to protect your visitors from identity theft.
Your website comes with an ultra-fast server with powered storage, unmetered bandwidth, backups, security scans, performance scans, and a 99.9% up-time guarantee.
​See how many people visited your website, signed up for your email list, and clicked your links all in real-time as well as integration with Google Analytics.
Send emails from a professional email address instead of gmail or yahoo by having your own custom email address with your domain. (i.e., john@artistname.com)
We do all of the work. Your new platform will be setup and all of the details will be sent over to your email. Every piece of the puzzle is put together for you so that you can simply send traffic to your site and sell beats.
We provide you with tutorial training videos on how to use your new platform and email marketing system. We also show you how to set up and access your custom email address accounts.
amazing beat website pricing
Integrate your beat store with a custom domain, your social media links, and email lead generation.
Free Domain & SSL Certificate
Website hosting
Website Analytics & Stats
Custom Email Address
Full Setup & Integration
No Contract (Cancel Anytime)
$20per month
Plus one-time $100 setup cost
FREE Domain & SSL Certificate
Website hosting
Website Analytics & Stats
Custom Email Address
Full Setup & Integration
No Contract (Cancel Anytime)
$200 per year
2 Months Free!
Plus one-time $100 setup cost