Custom Website Design
Merging usability with clean, professional designs.
We are a custom website design and marketing company that develops conversion-based websites that offer strategic marketing solutions for business owners determined to grow in their industry. Our primary focus is to provide superior customer service and deliver results.
We are marketers and artists. We have mastered the aesthetic design aspects to create powerful websites that gain leads and sales for our clients. We follow a smooth approach to design, develop and deliver the perfect website for our client's operations. From selling products and services to membership websites, we make sure that you have everything that you need for your business to operate online. We completely obliterating the difficult, time-consuming website tasks and we take care of you every step of the way.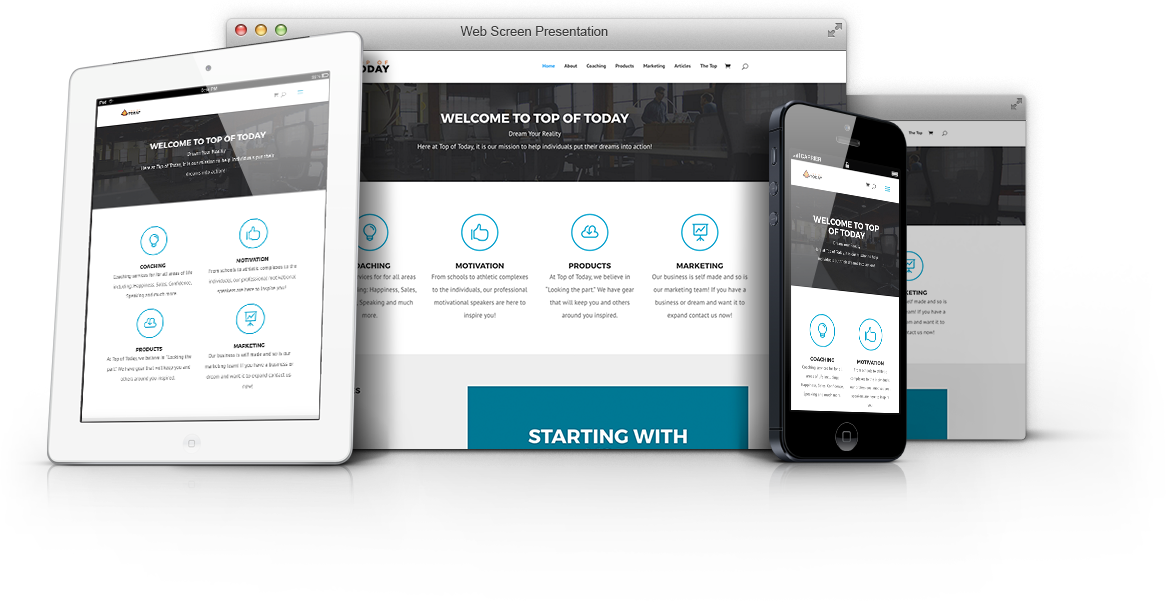 The Most Important Web Features
Every website is different, as every industry is different. Corporations will need different features compared to a small business website. An e-commerce website will have different features than an informational website. We handle projects of all sizes.
Your website will be delivered with a clean design that looks professional while reflecting your brand look and feel. Your responsive design also adapts perfectly for tablets and smartphones.
Your website may require several features that are quite complicated and overwhelming for the inexperienced designer. We simplify the admin dashboard and customize it for ease-of-use.
There are a lot of different payment options available for your website, depending on your requirements. From invoicing to selling products and integrations with Paypal and many other payment processors.
Having "yourname@yourwebsite.com" looks much more professional than "yourname@gmail.com." We can even integrate it with your current gmail to make email easy if you do not want to use a software like Outlook.
If you want your website visitors to be able to login and have access to specific pages/products, we can install a membership portal into your website with easy subscription management options.
Make changes yourself to the websites with ease. We even include video tutorials in your dashboard so that you can learn how to manage your website, add/update products, and view web analytics.
We will set your website up with Google Analytics to view all of your website's traffic statistics. Including number of site visits, bounce rate, average time on site, pages per visit and much more.
This list is the most popular features. We are capable of much more and custom development is EXACTLY what we do. We are honest, so if a custom feature is out of our scope, we will let you know.
Testimonials Happy design clients.
Krysta Jones
TheHighCountryGirls.com
I have used Flawless Website Design for many digital advertisements as well as our website and I can tell you the quality is always on point, returned in a timely manor, and functioning just as it should. I have been a repeat customer since I first worked with Mario on our website and refuse to go any where else.

Renae A.
Where do i begin!? I came to Mario for a private website, and what I received was sooo much more!!! I run a weight loss business, and I have so many different customers who speak different languages, Mario was able to make my website so it is translated to the language that was needed for them! Did I mention how awesome he is? No? Well Mario is AWESOME! ANY time I need help with my website, it doesn't matter what time it is, bless his heart, he will walk me straight through any problems I have. And I am NOT computer smart lol. He makes thing's so simple and easy for me to understand! If I need something added, He always goes out of his way to add what I asked and he throws in extra goodies for my website! So happy to have him as my web designer! That's the reason why I always tell people about his awesome service's! Happy Happy customer! Keep up the great work Mario! You're doing an amazing job!

Roger Williams
RogerWilliamsSongwriter.com
Mario built my website in record time, and it looks great, functions properly, and most importantly, he is very professional. Mario was very patient working with me on some training that will allow me to add to the site. I just purchased business cards that Mario matched up with my website design, and the cards look awesome. I am very happy and satisfied with the work Mario has done for me. I live in Kentucky, so I
would recommend him to anyone from anywhere in the world. Thank you for a great job!

Vic Carter
VicCarterMusic.com
Great people doing great work!! Support the home grown businesses. I ain't going nowhere else #Loyalty #Flawless

Nick Echo
Echo Media
Our webpage and all that goes on behind it would not be possible without Flawless Website Design. Mario has been exceptional with communication and execution of what we needed. If you are a small business, startup, or anything in between we highly recommend using Flawless Website Design.

Victor Hugo
Flawless Steel Welding
This is a wonderful company with the best customer service I have ever encountered. Mario works hard to make our company look great online and his personal service to our needs is outstanding. We are lucky to have found this company and would recommend them to everyone.

Darrel Quintana
Alumni Auto Glass
Great service will definitely recommend. My website and logo looks great. Mario is the first one that I call for any media.